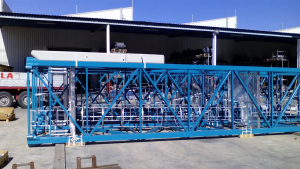 Allen Cranes Limited sells a variety of models in New and Used cranes.  New cranes are available now, and can ship from our facilities or directly from the manufacturer. We also have a huge inventory of used cranes, that have been professionally maintained by certified mechanics and are in excellent operation condition.  In recent times, we have specialise in Saez and Comedil crane sales due to their high demand.
We can ship to any Major Ports Worldwide.
All of our cranes are safety transported to your chosen destination.
Our cranes and fully certified by qualified trained Engineers and supplied with detailed paperwork.
We provide continuous guidance and support throughout the whole process, making sure you receive your crane on time.
Thank you for visiting our website, please feel free to contact us by phone if you have any questions or comments.
Our Belief is:
"Coming together is the beginning, keeping together is progress and working together is success".
SAEZ Data Sheet – S-65 [3-6 ton]
Terex Comedil – Flat Top Crane CTT 721-40
Terex Comedil – Flat Top Crane CTT 231-12
Terex Comedil – Flat Top Tower Crane CTT 162-8
Terex Comedil – Flat Top Tower Crane CTT 132-6
Terex Comedil – Flat Top Tower Crane CTT 182-8
Terex Comedil – Flat Top Tower Crane CTT 332-16
Terex Comedil – Flat Top Tower Crane -CTT561A-32
Terex Comedil – Flat Top Tower Cranes CTT 361-20
Terex Comedil – Transfer Masts CTT 91-5
Tererx Comedil – Flat Top Tower Crane CTT 191-10
Terex Comdeil – Flat Top Tower Crane CTT 231-12
Terex Comedil – Flat Top Tower Crane CTT 231-12-H20
Terex Comedil Flat Top Tower Crane CTT 231-12-TS23
Terex Comedil -Flat Top Tower Crane FC 6.24H
Terex Comedil – Flat Top Tower Crane CTT 91-5
---
Terex/Comedil
Self Erect Tower Cranes:
TEREX Datasheet CTT 91-5 – EVO15 CAB
TEREX Datasheet CTT 191-10 – ECO15 CAB
TEREX Datasheet CTT 191-10 – Transfer Masts
TEREX Datasheet CTT 361-18 EVO15 CAB
TEREX Datasheet CTT 361-18 – Transfer Masts
TEREX Datasheet CTT 361-20 – EVO15 CAB
TEREX Datasheet CTT 361-20 – Transfer Masts
TEREX Datasheet CTT 561a-20 – EVO15 CAB
TEREX Datasheet CTT 561a-20 – Transfer Masts
TEREX Datasheet CTT 561A-32 EVO15 CAB
TEREX Datasheet CTT 561A-32 Transfer Masts
TEREX Datasheet CTT 721-40 EVO15 CAB
TEREX Datasheet CTT 721-40 Transfer Masts